Being winemaker is tough
If the year 2013 was difficult, the 2014 vintage definitely  surpassed it. Mild winter, resulting in increased pressure of powdery and downy mildews, was followed by a summer with little sunshine and abundant rainfalls, being 262 millimeters above the annual average. Maintaining healthy crops required real craftsmanship. We had to shorten the interval between spraying  up to one week, thanks to which we managed to protect the vineyards from more serious damage. Pleasing was that the eco-sprays fully proved their efficiency even under these extremely difficult circumstances. We were silently hoping for a warm and sunny autumn, but what we got was only more abundant rainfall and a carpet attack of starlings, harvesting completely our white grapes, as well as the first samples of Maxims vineyard.
New tractor
Kubota, our new tractor with swivel section for treating the vines in rows and a decent 3 meter weeder to work between the rows, arrived at the beginning of April. The assembly proved itself immediately,  and Luke began riding it like an old friend.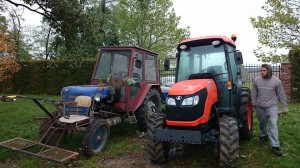 Planting of vineyards continues
We have planted 0,3 ha of new vineyard in April. At barely the Hron-variety was planted, when it began first drizzle and then rain. The Riesling was planted in such a  drenched soil that the last line was almost not planted because the tractor  began to slide. We had to replant manually  20 grafts, because they were out of the line.
Finally it did not turn out so badly
Due to the persistent rainfall the Portugieser was picked already on 16 September. Sugar content was only 16,5°N, although a week earlier 18,5°N was measured. This time it did not pay of to wait with the harvest. We harvested Blaufränkisch 18 and 19 of October at beautiful sunny weather. Due to the thorough sorting out in the vineyard the loses were about 30%. The sugar content was 21,3°N what was confirmed also by the certifying body ÚKSUP. Finally, it did not turn out for us so badly, because in general, this year  the blue varieties were picked already in September and processed as rosé wines.
Wines of the 2014 vintage
Due to the starlings only red wines from this challenging vintage were aging in our cellar. These wines are certainly  a very good example of authentic vintage wines. We were respecting the vintage specifics also in the cellar, rather than trying to use the broad array of means  winemakers have at their hands  to "iron them out". After only two years, what is one year earlier than usually, we are presenting well structured and harmonious wines authentically reflecting the 2014 vintage specifics with their delicate body.