You can make a small fortune in the wine business, provided you begin with a large one
(Thomas Pellechia: Starting and Running a Winery)
Roots reaching back to 1931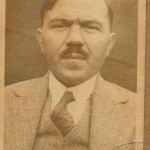 Our vine-growing and wine-making story is intertwined with the locality and its history. Our forefather Joseph Husar, a native of the cold mountainous Liptov in the north of Slovakia, acquired property in the Rose Valley of Sucha nad Parnou, a traditional wine-making village in the famous Small Carpathian wine region. The history of viticulture on the gentle Carpathian slopes dates all the way back to ancient Romans and Celts, however, our highlander forefather had a clue neither about viticulture, nor about wine-making. He studied the most recent available information and established a modern vineyard, supported by a two-wire trellis, keeping the rows at a distance matching the width of a horse back. That allowed him to work the vineyards with the help of a horse, replacing thereby the hard physical work.  In a village, where everybody still utilized the traditional way of head training and working the vineyards manually, he was considered a crazy man for dragging iron into the vineyards and for keeping such a large distance between the vines …
Continuation of the story in 2001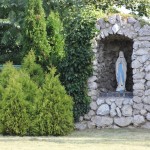 Since 2001, further generations picked up the family tradition right where it has been interrupted by the communist era. At that time we were active at a lovely estate located on the hilltop, between the Rose and Wolf walleyes, where one of the many monasteries, that were once in this area, stood. Today only a small chapel consecrated to Our Lady of Lourdes recalls the monastery, and here is where our wine cellar is located. Back in 2001, however, we focused on planting of a chestnut orchard, supplementing the ancient chestnut trees which were already growing on the property. We were not entirely clear what to do after the restitution. Grandfather's vineyard has been grubbed up by the communists long time ago, and we had only very modest knowledge about viticulture and wine making. Overall, the vineyards in Slovakia were in decay, people were talking about extremely low prices paid for the grapes, and that viti-viniculture in general required hard work all the year round, with an uncertain outcome. Despite of that we took the decision to step out on this demanding route, guessing only partially what an advantage are we up to.

In 2007 we planted on grandfather's plot Blaufränkisch vines which gave us first regular harvest in 2011. The grapes of exceptional quality were turned into a deep and complex wine, encouraging us to continue discovering the unique potential of the terroir in which our forefather founded the vineyards, as well as the mystery of transforming extraordinary grapes into wine of exceptional quality.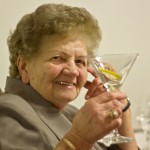 A link that spanned the 70 years between the onset and continuation of our story is one of the three daughters of Joseph Husar, who lived to restitution. Magdalena Magulová, née Husárová, experienced the winemaking achievements of her father, as well as the decline and ultimate destruction of the paternal vineyards. She passed away satisfied that at the very site where her father founded the original vineyard, neat rows of vines are growing again, and that her son and grandson with their families continue in the family tradition...
Period of search
Following the decision to embark on the uncertain journey of wine making was a long period of researching: visiting renowned wineries, interviews with established winemakers, building a professional library, surfing the web, studying and critical evaluation of the accumulated amount of information, but first and foremost tasting of wines from different producers on the quest for the wine  which could be our benchmark…
It was
encouraging  that fellow winemakers shared willingly their valuable views and experience with us. For all we gratefully acknowledge Milan Pavelka of Pezinok, Jozef Mikuš of Dolany, Miroslav Petrech of Chateau Belá in Mužla and Ladislav Šebo from the Carpathian Pearl in Šenkvice. Great inspiration  was also Jozef Zvolenský who established in the Rose Valley the impressive wine estate Terra Parna, including also beautiful vineyards, returning thereby Sucha back on the Small Carpathian region's wine map. Many thanks also to our faithful neighbor Milan Hutár, who decided to turn us into wingerons long before this idea even occurred to us, and guided us in our first steps. Last not least we thankfully remember our "rescue angel" Joey Martišovič to whom we turn on a regular basis when things get really bad. So far he has never let us down; whether a speedy repair of the  tractor was needed or pulling from a snowdrift or mud, as well as  in case of rapid assistance in any other trouble that  may be lurking behind the vines …
There was one thing, however, all renowned winemakers told us: we have to find our own way…
Our own way
Finally, we succeeded to find our own way through wines that spoke to us and got us under their charm, becoming our benchmarks. These were the natural wines from the winery Strekov 1075, whose creators were the charismatic winemakers Tibor Melecsky and Zsolt Sütö, as well as the low-intervention wines from the Austrian winemakers Claus Preisinger and Toni Hartl, made from grapes grown in biodynamic vineyards. To proceed in the vineyards, the vine-grower legends Ondrej Korpás of Strekov and Karol Braniš from Dolne Orešany, as well as the leading authority on ampelography Tibor Ruman from Šenkvice, provided us with advice and examples to follow. Zoltán Tamašek of Rúbaň inspired us to embark on the challenging journey of bio-viticulture earlier than we originally intended. Today we are producing authentic low-intervention wines exclusively from our own grapes, cultivated by organic viticulture…
Our strength
Our strength lies in team work coupled with personal commitment of each family member, including the extended family of our long-time collaborators.
Our team
Currently, all members of our core team live double lives, still pursuing their original full-time jobs besides the exciting viti-viniculture activities.