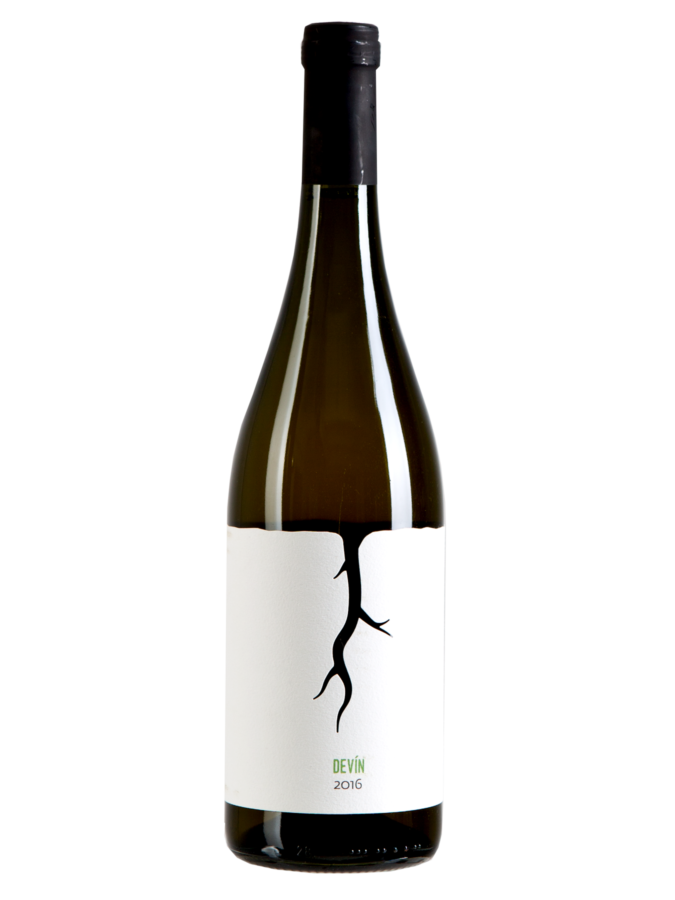 Devin 2017
Distinctive Devín with unmistakable Devín nose.  Very dry summer challenged  this young vineyard, producing a less opulent wine with slightly lower alcohol content and crisp acidity. Resulting is a quite drinkable wine with unique character, typical for this remarkable Slovak variety.
Spontaneously fermented, unfined and unfiltered organic wine
Grapes

Devín
0.5 kg
02/10/2017
20 ° NM
6.2 g / l
sur lies
Wine

11.72 %
1.0 g / l
6.21 g / l
42 mg / l
08/12/2018
518
Similarly to 2016, also the year 2017 was marked by late spring frosts at the end of April and May. Our location 200 meters above the seashore, has saved us again from more serious damage, since only the vines cut back on lower head or growing in frost pockets got affected. As if that would be not enough, in early July hail damaged the gentle vine leaves and green berries, which luckily healed during further maturation. It was a dry vintage with temperatures in June regularly exceeding 30°C. Fortunately, abundant rains in July, August and September ensured at the last minute optimal maturing of the grapes. In terms of quality and maturity of the grapes we can expect a very good year.
Devin, a remarkable Slovak variety, grown on a curtain trellis in the young vineyard planted on the boundary between Rose and Wolf valleys, pleased us with perfectly healthy and mature grapes allowing us to delay the pressing by two days, which supported dilution of aromatics from under the skin in the berries.  Fragrant must obtained by gentle pressing of whole bunches was spontaneously fermented without previous sulfiting and sedimentation.  It was racked after two weeks and left on its lees for further elevation until May 2018 when it was racked again and finally also sulfited.  We provided sufficient time for natural sedimentation and precipitation and bottled the wine without fining and filtering. It may contain a light deposit consisting of proteins and yeast residues, the so called "mother". This deposit has however high nutrition value, since it contains active vitamins, enzymes and probiotics. Thanks to the careful sulfiting it has very low content of sulfur dioxide, only 42 mg / l compared with the permissible value of 200 mg / l.
Resulting is a quite drinkable wine with slightly lower alcohol content and crisp acidity but with the unmistakable Devín nose.