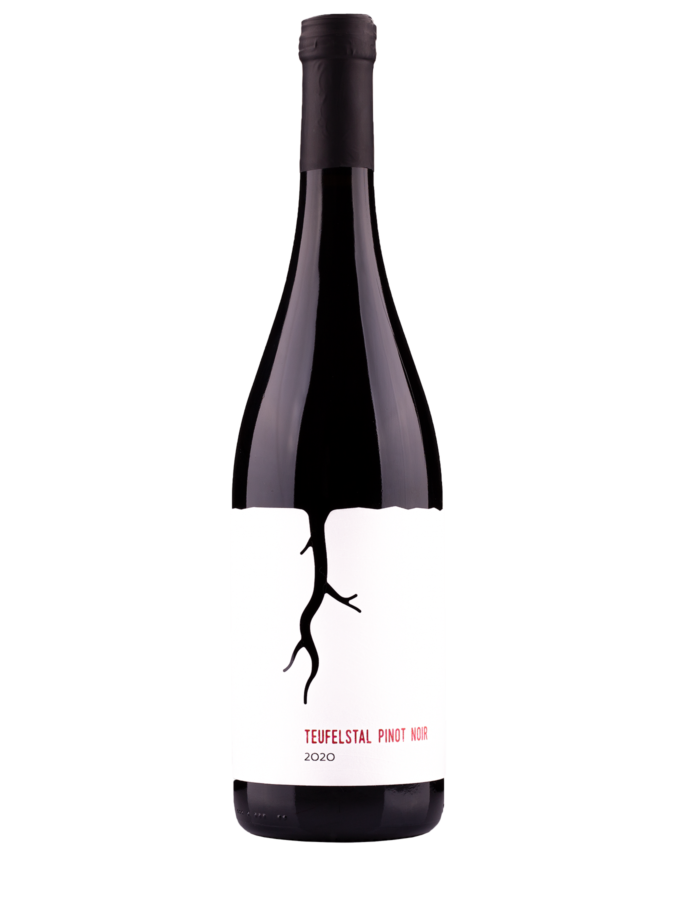 Teufelstal Pinot Noir 2021
The second harvest from a very unique Teufelstal vineyard in the Valley of the Wolves which we planted in 2017. Juicy yet delicate, intense yet fruity, complex, yet super drinkable. Totally approachable and versatile – it will fully quench your thirst in the most uncomplicated of ways, but if you feel you want to discover, it will show you layer after layer of its finesse and charm!
Fermented in open vats, 3 weeks on skins, aged in mixture of new and old barrels and a large stoneware amphora.
Spontaneously fermented, unfiltered, unfined organic wine, hand picked from our own bio-dynamically cultivated vineyards.
Grapes

Pinot noir
0.7 kg
23/09/2021
21 ° NM
Wine

11.44 %
0.1 g / l
5.88 g / l
43 mg / l
14/04/2023
2837
In stock
Teufelstal Pinot noir and Gewurtztraminer vineyard has been planted on well rested soil that hasn't been farmed for several decades and we planted it when already full immersed in the biodynamic viticulture. The beautiful south-western sloping hill felt like it was always destined to be home to noble grapes like Pinot noir and Gewurtztraminer. Our Pinot noir is a very diverse massale selection (i.e. a huge selection of different unique individual plants, as opposed to clone plantation, which are a commonplace practice during the last decades). We have found source material for our Pinot noir in Bourgogne, the home of this great grape variety. Part of the vineyard is planted with massale selection combining the best burgundy clones as researched by the ATVB association in Beaune. The larger part of the vineyards is essentially a genetic replica of the extraordinary Clos des Epenaux vineyard in Pommard, that was planted in 1920's. This selection contains more than 400 unique individual plants and thus creates an extremely diverse and resilient vineyard that translates to very unique and complex expression in wine and of distinct character reflecting each vintage uniquely.