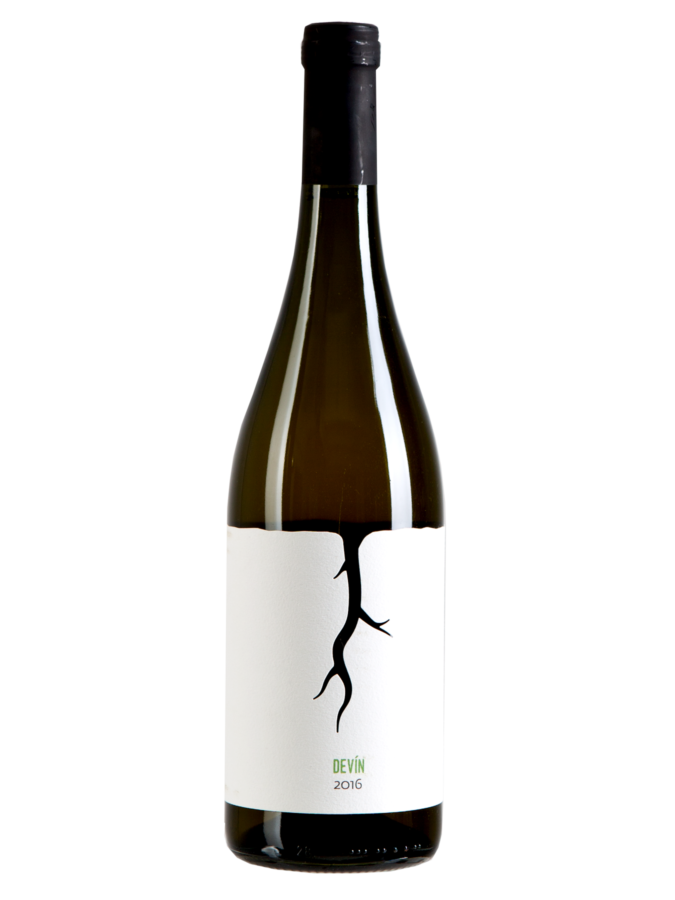 Devín 2016
Výrazný Devín so strohejším prejavom typickým skôr pre klasické biele odrody, no s nezameniteľnou devínovou aromatikou. Veľmi suché leto potrápilo tento mladý vinohrad a čo vyústilo do menej opulentného vína s jemnejším alkoholom a výraznou kyselinkou. Výsledkom je výborne pitné víno s jedinečným charakterom.
Hrozno

Devín
0.5 kg
23/09/2016
20.6 ° NM
8.0 g / l
Sur lies
Víno

11.88 %
1.4 g / l
7.33 g / l
39 mg / l
25/06/2018
845
(EN) After three years of conversion to bio-production  we received for the first time bio-certificate of the grapes from the 2015 vintage as well as of the wine which will be produced from them. 2015 was a relatively good but challenging year. Cold and rainy May was followed by  warm and sunny weather with hot spells up to 41 °C which was replaced by extreme rains in the second half of August. Relatively cold and rainy autumn did not contribute to early ripening of the grapes. Despite of that we managed to keep the grapes in good health and harvest them in time before the threatening rain.
Only three years old vineyard of Devin, grown on a curtain trellis in the young vineyard planted on the boundary between Rose and Wolf valleys, pleased us with virgin crops of exceptional quality. Perfectly healthy grapes allowed us to delay the pressing by two days, which supported dilution of aromatics from under the skin in the berries.  Fragrant must obtained by gentle pressing of whole bunches was spontaneously fermented without previous sulfiting and sedimentation.  It was racked after two weeks and left on its lees for further elevation until end of January 2016 when it was racked again and finally also sulfited.  We provided sufficient time for natural sedimentation and precipitation and bottled the wine only after a year without fining and filtering. Thanks to the careful sulfiting it has very low content of sulfur dioxide, only 53 mg / l compared with the permissible value of 200 mg / l.
Resulting is an intense and powerful Devin with robust body and strong expression of varietal characteristics, presenting the most beautiful face of this remarkable Slovak variety.