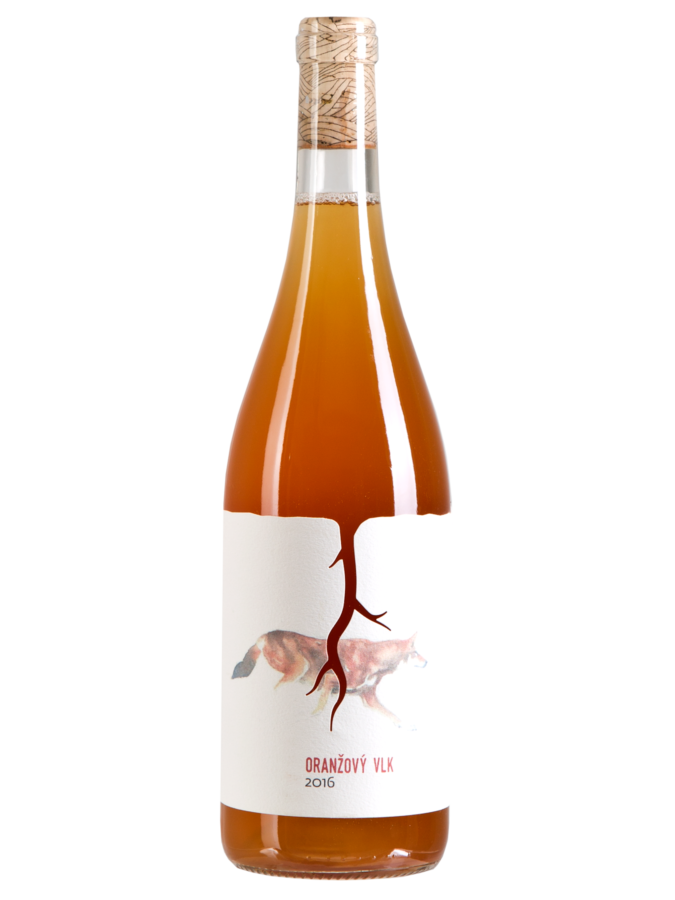 Orange wolf 2016
Unique, complex wine created from white grapes by fermentation and maceration on skins and grapes. It is a balanced cuvée of Welschriesling and Veltliner from an old vineyard in Wolf's valley and a young Devín from Rose mountain. Welschriesling fermented on skins in open wat for 10 days, Veltliner and Devín fermented in barrels, with 15% of hand-destemmed grape berries and macerated with them for  further 10 months.
Spontaneously fermented, unfiltered, unfined organic wine without any addition of sulphite.
Content of sulphites is a natural product of yeast metabolism.
Grapes

Welschriesling Grüner Veltliner Devín
1.5 kg
01/10/2016
21 ° NM
Orange wine
Wine

12.0 %
1.2 g / l
6.96 g / l
15 mg / l
11/10/2016
830
Sold out
Vintage 2016 was primarily determined by fast and too early arrival of spring, which was then followed by frost that burned the young shoots of awakening vines. We eventually lost only about 10% of our crop thanks to relatively high altitude of our vineyards, but this spring frost left its effect on the entire vintage. Although the vines are strong and they were able to recover from the frost, there were unusually big differences in ripeness within the vineyards. Therefore, we had to be extra careful during the harvest, taste the bunches more than usual and remove those that were unripe.
After the success of our first attempt at macerated white (Orange wolf 2015), we decided to take the experiment further and also increase the amount of the wine. We crushed and destemmed the Welschriesling on an ancient crusher inherited from our great grand father and let it ferment in an open wat on skins for 10 days, after which we racked the wine to a barrel for further aging. Juice from Veltliner and Devín went directly to old oak barrels, but first we filled 15% of their volume by hand-picked berries of those grapes. The cuvée Orange wolf was then born by assembling these 3 wines in August 2017. After assemblage, the wine matured until October 2017, then we bottled it directly from the barrels, without any fining and filtration, or any addition of SO2.
Enjoy the unique vibrant complexity of this orange wine!